Bee Swarm Simulator Codes is a game created by the famous company "Onett." It landed on the Roblox platform on March 11, 2017, and quickly became the most well-known game there. In this game, every player becomes a beekeeper whose job is to collect pollen and battle enemies. By doing this, players can help their bees become stronger and level up.
Active Bee Swarm Simulator Codes For Eggs
Here are some most valid working codes for the Bee Swarm Simulator in Oct 2023.
Connoisseur– free tickets
Crawlers– free tickets
Cubly– free boosts and rewards
DarzethDoodads– free boosts and rewards
DemiDecade– free boosts and rewards
Dysentery– free boosts and rewards
GumdropsForScience– 15 Gumdrops
Jumpstart– free boosts and rewards
Luther– free boosts and rewards
Marshmallow– free boosts and rewards
Millie– free boosts and rewards
Nectar– 5000 Honey
PlushFriday– free boosts and rewards
Roof– free tickets
SecretProfileCode– free boosts and rewards
Sure– free boosts and rewards
WeekExtension– free reward
38217– free tickets
10mMembers– free boosts and rewards
1MLikes– free boosts and rewards
500mil– free boosts and rewards
5Years– free boosts and rewards
Banned– free boosts and rewards
BeesBuzz123– free boosts and rewards
BopMaster– free tickets
Buzz– 5000 Honey
CarmenSanDiego– free boosts and rewards
ClubBean– free boosts and rewards
ClubConverters– 10 Micro-Converters
Cog– free tickets
Teespring– free boosts and rewards
ThnxCyasToyBox– free boosts and rewards
Troggles– free boosts and rewards
WalmartToys– free boosts and rewards
Wax– 5000 Honey and free tickets
Wink– free boosts and rewards
WordFactory– free boosts and rewards
What Is Bee Swarm Simulator Codes 2023?

Bee Swarm Simulator Code: It is a game developed by the famous company "Onett" and later This game was released on March 11, 2017, on the Roblox platform and became the most famous game on The Roblox platform. In Bee Swarm Simulator, Each online player is a beekeeper who must collect pollen, and fight with other enemies, and in this way, he can level up their bees. The game includes a variety of different bees with unique abilities. Players can also purchase some premium items from the in-game shop to improve their bees and gaming experience. The main and most important goal of the game is to become the supreme beekeeper by collecting as much pollen as possible, growing your bees, and defeating enemies.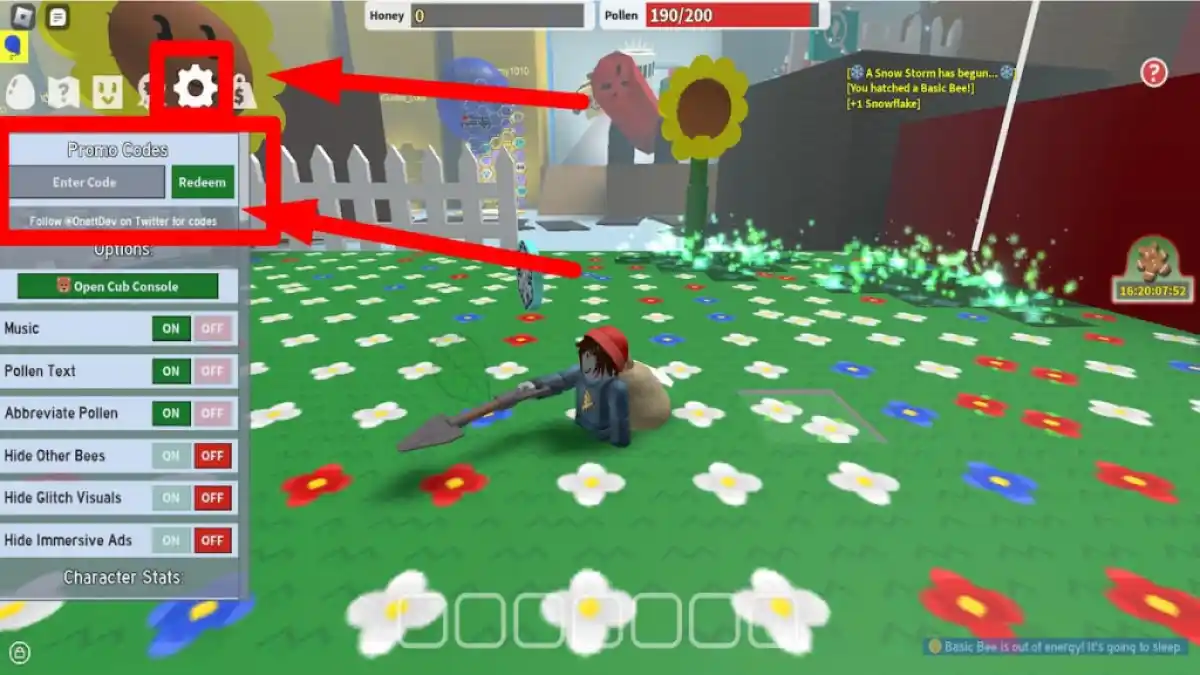 Features of Bee Swarm Simulator Codes Wiki:
Collect pollen: The worldwide Players must collect pollen from flowers to get honey, this in-game honey later can be used to get rewards in the game's shop menu.
Fight enemies: Fight the toughest enemies such as bears, mosquitoes, and spiders to safeguard their shelter and collect pollen as much as possible.
Level up bees: grow your bees' prowess through a journey of growth, nourishing them with an array of delectable treats and endowing them with the richness of royal jelly.
Purchase items: Gamers can buy stuff from the in-game store to make their bees and shelter better.
Complete quests: Engage in quests to reap rewards like honey, pollen, and valuable items
Join a hive: Team up with fellow players by joining a hive, where you can collaborate to gather pollen and conquer foes.
Personalize your hive: You can make your hive special by adding decorations and structures.
Bee Swarm Simulator offers an enjoyable and engaging experience suitable for players of any age. It's a fantastic choice for those who love collecting, battling, and advancing in their gameplay. these codes are Like World Defenders Codes.
Expired Codes:
38217
Roof
SecretProfileCode
Sure
Teespring
Wink
Wax
Bopmaster
Buzz
Cog
Connoisseur
Marshmallow
Nectar
Crawlers
How to Redeem Bee Swarm Simulator Codes For 1000 Tickets
Here are the steps on how to redeem Bee Swarm Simulator codes:
Launch the Bee Swarm Simulator game on your device (Mobile or PC)
Now, Click on the Bee Shop icon in the bottom left corner of the screen.
Hover on the "Code" button.
Enter the code in the box and click "Redeem".
If the code is valid, you will receive your rewards immediately.
If the selected codes in not working or after entering the code, you get nothing, it means that the code is no longer active and it's been already redeemed. You should try another code to get free rewards and in-game honey.
How To Get More Active Codes For Bee Swarm Simulator Codes For Mythic Egg?

Here are some ways to get active Bee Swarm Simulator codes:
Follow the game's official Twitter account
Join the Bee Swarm Simulator Discord server
Watch Bee Swarm Simulator YouTubers
Attend Bee Swarm Simulator events
Check websites that list Roblox codes
What do the Codes do in Bee Swarm Simulator Codes Ready Player 2?

Bee Swarm Simulator codes can give you a variety of rewards, such as:
Double XP: Enter this code to get twice the XP for a while, helping you level up quicker.
Boosts: These codes provide short-term power-ups that assist you in gathering pollen, battling foes, or enhancing your bee's level.
Stuff: These codes grant you items to upgrade your bees, hive, or enhance your game experience.
More treats: You can also use special codes in Bee Swarm Simulator to get different rewards, like new bees or cool skins.
FAQs:
What are the codes for the 7 pronged cogs in a bee swarm?

To get all 7 of the 7-Pronged Cogs, use these codes: Dysentery, Luther, Millie, CarmenSanDiego, Jumpstart, Troggles, and WordFactory. When you put on this item, you can talk to the Computer's Digital Bee (NPC).
How do you get 50 bees in a bee swarm simulator?

You can't quickly get 50 bees right away in Bee Swarm Simulator. Your hive can hold up to 50 bees, but you have to buy extra slots to have more bees.
Can you get more than 50 bees in a bee swarm simulator?

As you get more hive slots, the cost goes up a lot. This lets you have up to 25 slots for 50 bees. But now, you can have more than 50 bees for a while using things like Onett's Lid Art, Honeyday Candles, and Gummy Siege.
What are bee swarm simulator codes for 1000 tickets in 2023?

As of August 2023, there is no code that can be used for 1000 tickets. However, there are much more chances of releasing these codes in the near future.
Conclusion:

Bee Swarm Simulator is like a captivating journey that anyone, regardless of age, can hop into and have a blast. It's a dreamland for those who find joy in gathering treasures, diving into epic battles, and propelling their progress in the game world. Whether you're a young adventurer or young at heart, this game's got the perfect blend of excitement and challenge to keep you hooked! To take your gaming experience to the next level, codes help you to do this as these can help the players to get some paid stuff totally free.
If you are looking for how to get these valid codes for free, we have them back to you. These codes are mostly distributed by the game developers and can be found on their social media pages like Facebook, Twitter, Pinterest, etc. Sometimes these can also be found on the game's official Discord server. To redeem free rewards from these codes, a step-by-step guide is also provided. I suggest you bookmark this page as we regularly upload valid and working codes for unlimited free rewards.