What is Active 2k23 Locker Codes? NBA Stands for "National Basketball Association "(NBA). NBA 2K23 is a popular basketball video game that brings excitement at the player's fingertips. This game was Developed by Visual Concepts and published by 2K Sports, NBA 2K23 is the latest installment in the long-running NBA 2K series. Players can experience realistic basketball gameplay, stunning graphics, and immersive features on various gaming platforms.
In NBA 2K23, players can take control of their favorite NBA teams, as well as legendary players, and compete in thrilling matches against AI( artificial intelligence) or other players online.
What are NBA 2k23 Locker Codes?
Locker codes in NBA 2K23 are special alphanumeric combinations that players can redeem within the game to unlock various rewards and bonuses. These codes are periodically released by the game developers and can be found on social media, official websites, or through in-game promotions. Once you input the locker code, you can receive in-game currency (Virtual Currency or VC), player cards, cosmetic items, or other exclusive items that boost your gaming experience. It's a fun and exciting way to earn extra rewards and boost your experience in NBA 2K23.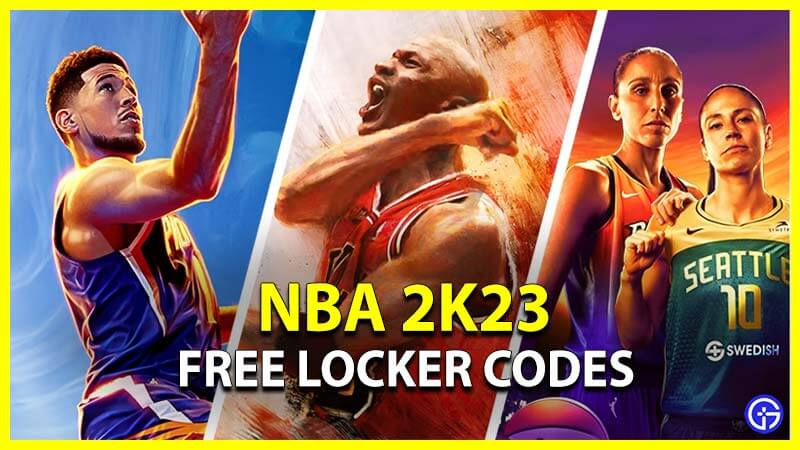 How To Redeem Locker Codes?
To redeem Locker Codes in NBA 2k23 is quite easy. These locker codes have an expiry time, once the locker code is used then it becomes useless. But you don't have to worry because we are here to show you how to redeem codes in NBA 2K23 step-by-step guide.
So when you got fresh NBA codes you have to redeem the code as soon as possible. As we said earlier, redeeming locker codes in NBA 2K23 is pretty simple and quite easy.
Let us go through the quick process of claiming locker codes in the game.
After you start up your game, you have to choose the MyTEAM option from the main menu.
Once you reach the Homepage in the MyTEAM section, you will notice a big blue box with a title that reads "MyTEAM Community HUB".
Click the big blue box and you will be instantly taken to the MyTEAM Community HUB.
There are a lot of different tabs here to choose from 'Locker Code' option is quite easy to detect.
Simply select it and you will reach a screen with a keypad on it.
Now simply insert the code with exact letter case along with symbols. The game will then give you the reward that was assigned.
So, that is the simple process of redeeming the Locker Code in NBA 2K23.
All NBA Free Vc Locker Codes 2k23 List August 2023 (Updated)
Active NBA 2K23 Locker Codes (Working)
LADIESDANCE-DUJE4—Play Indicator
MAIDSAMILKING-X3C88—Green release Animation
SWANSASWIMMING-A4WKR— Christmas Shirt
FRENCHHENS-NEZRU—Christmas arm sleeves
PARTRIDGE-P9LFX—Free sweater
LAL-MIL-SZN3-2K23
HAPPY-THANKSGIVING-MYTEAM—Thanksgiving Pack with a non-auctionable Amethyst or higher player
HAPPY-THANKSGIVING-3R9T—Thanksgiving Banners and 2-Hour Double XP in MyCareer
HAPPY-HALLOWEEN-IN-MyTEAM— Trick or Treat Exchange card
MYTEAM-SILENCERS-PACK-3HWPC— Silencers Pack
JPPGB-24J8S-VVJZQ-65GD6-533J7—Redeem MyCareer code for x3 Gatorade Boosts, 30 minute 2XP Coin, and a shirt
CONGRATS-HOF-HARDAWAY—Redeem code for Heat Trophy Case Pack
CONGRATS-HOF-MANU—Redeem code for Spurs Trophy Case Pack
2KDAY-IN-MyTEAM-NBA2K23—Redeem code for #2KDay Option Pack
2023-NBA-CHAMPIONS— Denver Nuggets Options Pack
2K23-FINALS-DEN-MIA— MyTeam Dark Matter Card
LAL-DEN-SZN7-2K23— Playoff Player from Nuggets or Lakes, and 1 hour XP and Apparel
THANK-YOU-MELO— All-Time Carmelo Anthony Evo
LEGO-2K-DRIVE— Lego Go-Kart
PLAYOFFS-LONNIE-WALKER-IV-EVO— Lonnie Walker Card
MyTEAM-SEASON-6-HERO-CARD— Hero Pack
MOODY-EVO— Evo Moses Moody
MYTEAM-THE-PLAYOFFS-ARE-HERE— 1 Playoff Card Pack
HOPPY-MyTEAM-EASTER— Galaxy Opal Giannis Antetokounmpo, Dennis Rodman, or Alperen Sengun
JORDAN-TATUM1-ONLYUP— Jordan Tatum Card
PHX-LAL-MARCH-2K23— MyTeam Pack and 2 hour XP Coin
250K-FINALS-GALAXY-OPAL-PLAYER— Opal Player Pack
250-THANK-YOU-MYTEAM-COMMUNITY— 25k MT or 150 Tokens
NBA2K-LAL-GSW-SUNDAY— Series 2 Pack and a 2-Hour Double XP Coin in MyCareer
OKC-PHX-SZN5-2K23— MyCAREER and MyTEAM Pack
MyTEAM-DIAMOND-DEVIN-BOOKER-4U— Diamond Devin Booker Card
FINAL-GAMEDAY-ALL-STAR-PACK— All-Star Pack
FINAL-GAMEDAY-DIAMOND-SHOES— Diamond Shoe Pack
ALL-STAR-JORDAN-23-IN-MYTEAM— Diamond Michael Jordan Card
SZN4-CAV-PEL-AS23— 1 Hour XP Coin and a MyCAREER and MyTEAM Pack
MyTEAM-RUI-HACHIMURA-C7P55— Rui Hachimura Card
MyTEAM-OUT-OF-ORBIT-KMART-EV6K—Redeem code for a Diamond Kevin Martin
NBA2K-SAT-76ERS-NUGGETS— MyTeam Pack and Apparel
2K23-MyTEAM-HA-SEUNG-JIN-X8WN— Amethyst Ha Seung-Jun
KOBE-81-POINTS— Amethyst Kobe Bryant
2K23-MyTEAM-LNY-JEREMY-LIN-17— Amythest Jeremy Lin
NBA-2K23-PARIS-SZN4— France Prize Ball
HAPPY-MLKDAY-2K23-TGH3— 2 XP Coins, Apparel Items, and MLK Name Plates
MYTEAM-MLK-DAY-2K23— Deluxe Pack
HAPPY-HOLIDAYS-PD-FOR-YOU— Pink Diamond Klay Thompson, John Wall, Dwight Howard, Draymond Green, or Lonzo Ball
How can you get more NBA 2K23 Locker Codes?
To get more NBA 2K23 Locker Codes and unlock exciting rewards, you can follow these methods:
Official 2K Sports Channels: Keep an eye on the official social media channels and websites of 2K Sports, NBA 2K, and NBA 2K23. They often release locker codes as part of promotions or special events. Follow their Twitter, Facebook, Instagram, and official website for updates.
Livestreams and Community Events: Watch live streams of NBA 2K content creators and developers on platforms like Twitch or YouTube. They sometimes give away locker codes during their streams or community events.
In-Game Promotions: NBA 2K23 may occasionally offer locker codes through in-game events, challenges, or as rewards for completing certain tasks.
Giveaways and Contests: Participate in giveaways and contests hosted by NBA 2K community members, YouTubers, or gaming websites, as they often include locker codes as prizes.
Locker Code Websites: Some websites are dedicated to listing active locker codes. Regularly check these websites to find new codes that you can redeem in-game.
Remember, locker codes have expiration dates, and they are often limited in quantity. So, when you come across a locker code, be sure to redeem it as soon as possible to claim your rewards.
FAQ
What are Active 2K23 Locker Codes?
The Active 2K23 Locker Codes are special combinations of letters and numbers that players can redeem in NBA 2K23. Here you can unlock various in-game rewards, such as player upgrades, Virtual Currency (VC), cosmetic items, and lots more.
Where can I find Active Locker Codes Wwe 2k23?
You can find Active 2K23 Locker Codes through official channels, including the official NBA 2K social media accounts, website, and in-game promotions. Additionally, content creators and community members may share codes through live streams or giveaways.
How do I redeem Active My Career Locker Codes?
To redeem Locker Codes, go to the "Main Menu" in NBA 2K23 and navigate to "Options/Features." Then select "Locker Codes" and enter the code exactly as it appears. Confirm to receive your rewards.
Do Active free vc locker codes 2k23 expire?
Yes, Active 2K23 Locker Codes have expiration dates. Make sure to use them before they expire to claim your rewards. nba 2k23 locker codes that don't expire here.
How often are new Locker Codes released?
The release frequency of Locker Codes varies. Codes can be released during special events, holidays, or as part of promotions. It's best to regularly check official channels for updates.
Can I use Active 2K23 Locker Codes on any platform?
Yes, Locker Codes are usually universal and can be used on any gaming platform, including PlayStation, Xbox, Nintendo Switch, and PC.
Are Active 2K23 Locker Codes region-specific?
In most cases, Locker Codes are not region-specific. They can be redeemed by players worldwide.
Yes, you can share Locker Codes with friends or other players. However, keep in mind that some codes might have a limited number of redemptions.
What kind of rewards can I get from Active 2K23 Locker Codes?
The rewards from Locker Codes may vary but can include Virtual Currency, player cards, skill boosts, clothing items, and other in-game bonuses. what is the code for the 100k vc locker in 2k23?
Do I need to purchase anything to use Active 2K23 Locker Codes?
No, you don't need to make any purchases to use Locker Codes. They are generally given away for free as promotional items. However, some exclusive codes might be tied to special editions of the game. NBA 2k23 Twitter has released the latest codes.