Fruit Battleground is a new game which is made by Roblox. This battleground game is animated by One piece theme. A player who loved to play arena games can rely on this game. As it is inspired by different heroes so it has many animated heroes. You can play this game with your friends and other players all around the world. To become the ultimate warrior of the world you have to get different fruits as rewards which have unique effects and different powers. With the help of the power of these fruits, you can defeat your enemies easily to conquer the battlegrounds. There you can find some rewards that are present already but rare and unique fruits can be obtained by using Fruit Battleground Codes.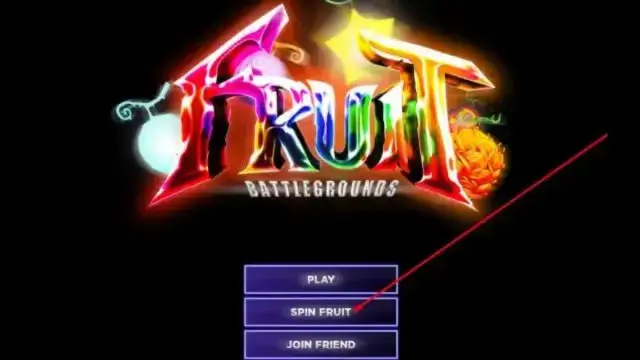 Fruit Battleground Codes are used to collect fruits that will give rise to your rank on the battlefield. With the help of these codes, additional power will boost up the energy to defeat your foes and become the ultimate gamer. Fruit Battleground is made by POPO, which is full of anime inspirations. You will definitely enjoy anime characters and game effects. And most gamers want free stuff, so don't worry here is a list of codes that can be used to obtain fruits after redeeming them gems can be collected as a reward and are used to get things.
As the Fruit Battleground game is being updated on a regular basis so some new codes are introduced and some have expired. Here is a list of codes that are active and can be used to get rewards and that have expired to save time and energy.
Active Fruit Battleground Codes:
| | |
| --- | --- |
| Codes |                          Rewards |
| TOX1C | Free gems |
| TOURNYCLASH | Free gems |
| P4TIENC3! | Free gems |
| WEBACKBABYYY | Free gems |
| QUICKREBOOT | Free gems |
| 350HAPPY | 1000 gems |
| FULL360! | 500 gems |
| 370MADDD | 500 gems |
| HYPETIME! | 400 gems |
| PULLINGSTRINGZ | 800 gems |
| TECHNOBOX | 600 gems |
| 340NEVERENDS! | 400 gems |
| 320THXGUYS! | 400 gems |
| HYPEFIX! | Free rewards |
| 330WEUP! | Free rewards and gems |
| 310KEEPGOING | Free gems |
| OMG100M | 800 gems and free rewards |
| 2HAPPY290 | 400  gems |
| GETCRAZYY! | 500 gems |
| 360BELIEVE | 500 gems |
| LIGHTNINGHYPE | Free rewards |
| 300KWOW | Free gems |
| 4TTRACTION | 600 gems |
| KINGJUNGL3 | Free rewards and gems |
| CRAZYGASSED | Free gems and rewards |
| TOOHAPPYBRO | Free gems and rewards |
| GRATITUDE | Free gems |
| SKYH1GH! | 240 |
| 230GANGG | Free rewards |
| APPRECIATIVE | Free gems and rewards |
| YESSIRBIG200! | 1000 gems |
| DUBMINER | 300 gems |
| NEVERSTOP | 400 gems |
| CANTSTOP | 300 gems |
| SHUTDOWNLUCK | 400 gems |
| FUNNYNUMBER | 400 gems |
Fruit Battlegrounds Tier List
Tier 0: OP
Tier 1: Best
Tier 2: Good
Tier 3: Decent
Tier 4: Average
Tier 5: Below-Average
Tier 6: Worst
Not working Fruit Battleground codes:
FREECASHBRO
GOCRAZY180
190KWOWBRUH
KRAZYSUPPORT
160 WOW
INDAZONE
PAWGOCRAZY
120KTHX
110KYEE
LASTSHUDOWNALRIGHT
RAININGGEMS!
ITJUSTDODNTSTOP
GEARFOOOOURTH
LETSGOO130K
LONGWAITED
GOLDENDAYS
COMEONMARCOOO
WINTERDAYZ
FREEBREAD!
SORRY4SHUTDOWN
50KINSANE
40KDAMN
100KWEDIDIT
60KLETSGOOOO
MAGMALETSGOO
PRESENT4YOU
WUPDATEORNAH
2KLETSGOO
1KLIKESGANG
20KCRAZY
25KINSANE!!
15KNOWAY
4KGANGO
3KTHXBRO
THXFOR10K
7KTEAM
5KSQUAD
3OKLOVEYOU
Also, You can get some other promo codes:
Redeem Process Of Fruit Battleground Codes:
Fruit Battleground codes are very sensitive. When redeeming the code it is mandatory to put all the words and symbols in the proper way otherwise you will not be able to get fruits. Sometimes codes expire and do not work don't worry new updates have new codes. Enter new codes to get new free stuff. It is very easy to redeem the codes. You can redeem Fruit Battleground codes by following the given steps;
In the first step, you have to open Fruit Battleground
Next, there is a Twitter icon, click on it
There is space for code, enter the code given in the upper table
After entering the code there is a redeem button, click on it.
Now you have got free stuff, you can enjoy your game experience in free.
Frequently Asked Questions By The People
How Do I Claim Blox Fruit?
It is very simple to redeem Blox fruit. You just have to click the Twitter icon present on the left side of the game. Put your code into the given box and click the "try" option. If the code is not working it is likely chance that the code has expired. Try again by checking the list.
How Do I Claim Daily Fruit Battleground Codes?
Open the game and go into the main menu the search for the "spin" option. It is a treasure chest to open. Put the code in the box and click the redeem button. Now you owned a daily reward.
Where is Rip_indra Blox fruits?
Rip_indra is basically raid Boss which is spawned inside the palace of the Castle located in the Third Sea. When it spawns, a player can see changes on the screen as everyone's screen will shake and the atmosphere of the world suddenly changes. There is thick fog which makes vision difficult and the player can't see anything clearly.
Is Rip_Indra Powerful?
Rip_Indra is very powerful as it is the boss with a maximum level of 5000 in the game. Only the best or Veteran Player can defeat the boss.
What Is The Code For Battleground Free For All?
4480-0484-0814
It is free code for all Battlegrounds and is made by LAB- Fortnite.