Rush Royale best deck is one of the most famous games in the globe. It is the best combination of elements of cards and strategy games. Here you can build a Best Deck and protect your castle against the enemy. This game has lots of Amazing features available each feature has its own character positive and negative. First of all, you have to have the ability to understand which card is best after that you can use the card. Fight against your enemy and defeat her.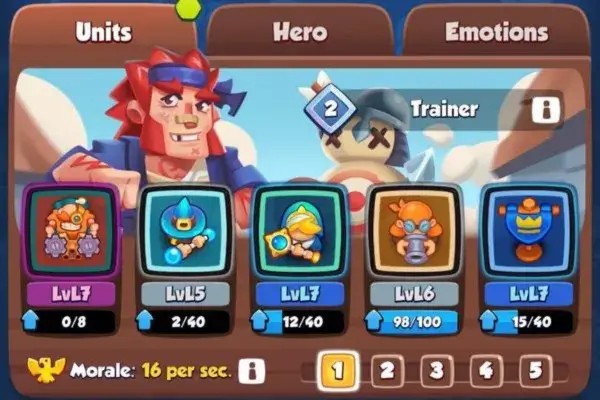 Rush Royale Best Deck
In the Rush Royale tier list, you can find amazing and profitable cards and decks that you can upgrade your game and fight against the opponent. First, you can check which card is more powerful in the gameplay battles. You can up to date time to time and make changes in the Rush Royale Game.
Here some of the new cards are unlocked like Gargoyle, Ivy, Harlequin, Trapper, and Corsair in the Latest Arena 9, and find the best chest in the event. And some heroes are unlocked when you can reach Arena 9 like Mermaid. Make the combination with the best players and then start the game first you can unlock this strong card and then start the competition.
Here you can check the 
Rush Royale Best Deck 1 Card
First of all, you can make your aim to find the level one card in the Deck filling. After that use the Thunderer, Boreas, and Sentry are the best attacking cards. These cards are very important to kill your enemy and increase your speed of attack.
Thunderer
Boreas
Grindstone
Sentry
Vampire
Deck 2 Cards in Rush Royale
Vampire
Boreas
Thunderer
Cold Mage
Hex
There are different ranges of level cards available each card has its own ability and its own use. These cards have good skill and help to damage more your opponent. Use the best hard-level cards and stick them into the highly effective plan.
Deck 3 Cards Rush Royale Deck
Thunderer
Grindstone
Wind Archer
Bombardier
Vampire
Deck 4 Cards Rush Royale Best Deck
Harlequin
Thunderer
Grindstone
Dryad
Bombardier